Jeep Wave™ - The New Exclusive Jeep Wave program
Jeep Wave™ - The New Exclusive Jeep Wave program
Posted on August 6, 2021
WORRY-FREE MAINTENANCE FOR YOUR PEACE OF MIND
Complimentary Maintenance for a Limited Time
Up to six oil changes and tire rotations are covered during the first 36 months of ownership, and all service is completed by a specially-trained Jeep® Brand technician at any Jeep® dealership.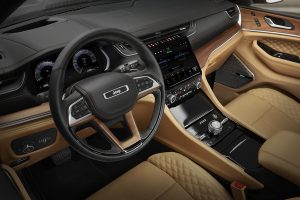 The Confidence of Added Vehicle Protection
If a covered component needs replacing and your vehicle has to be left at the dealership overnight, rest assured that you're covered with first day rental. You'll also enjoy trip interruption coverage and 24/7 roadside assistance for the duration of your 5 year 100,000 km Powertrain limited warranty.

Dedicated Owner Support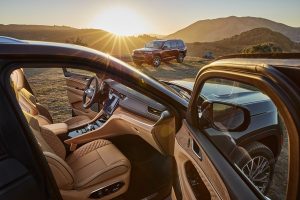 VIP Treatment
Jeep Wave™ members get access to exclusive events, as well as preferred treatment at select Jeep® Brand events across the country.
EXCITING PERKS. EXCLUSIVELY AVAILABLE.
2021 Jeep® Grand Cherokee L
All owners of the All-New 2021 Jeep® Grand Cherokee L will be automatically enrolled in the program, and will have access to the membership from the day they purchase or lease their vehicle.
JEEP WAVETM FREQUENTLY ASKED QUESTIONS
Who is eligible for Jeep Wave

™

?
Beginning with the 2021 model year, the All-New Jeep® Grand Cherokee L is automatically enrolled into the Jeep WaveTM program.
When does membership in the Jeep Wave

™

 program begin?
Membership for Jeep Wave™ begins on the vehicle's in-service date.
How can Vehicle owners start accessing the website and using their Jeep Wave

™

 membership?
Start by activating your Jeep Connect trial subscription from your vehicle. Press the ASSIST button and follow the prompts on your vehicle's touchscreen, or call 800-777-3600. Once you're registered you can view the details of your Jeep Wave™ membership by logging in to Mopar.com/en-ca.html. Please note that it may take up to 72 hours for an owner's Jeep Wave™ membership to be fully processed and accessible on the site.
Can members have more than one Jeep Wave

™

 membership?
Yes. Members can have an unlimited number of memberships so long as they have qualifying vehicles. Each membership is linked to a specific Vehicle Identification Number (VIN).
What happens to the Jeep Wave

™

 membership if the vehicle is sold?
The Jeep Wave™ membership may be transferred to all subsequent owners at no charge. Transfers of plan coverage must be handled by an authorized FCA Canada Inc. retailer and must be applied for within 30 days of the sale of the vehicle to the subsequent owner. It is recommended to keep your proof of vehicle maintenance for the next owner. Once a dealer transfers the Jeep Wave™ membership plan, the new owner will receive a welcome kit in the mail outlining the benefits and terms and conditions of the membership.
How do the maintenance services work?
Jeep Wave™ members can go to any Canadian authorized FCA Canada Inc. dealer to redeem their oil change and tire rotation services.
What does trip interruption protection cover?
If your vehicle experiences a mechanical breakdown within the membership term limits while at least 200 kilometres from home, up to $100 per day of hotel, meals or return transportation (not including car rentals) expense can be claimed for reimbursement, to a maximum of $300. Call Sykes Assistance Services toll-free at 1-800-363-4869 for claim instructions.
What does first day rental allowance cover?
The Jeep Wave™ membership will contribute toward the rental if your vehicle has a defect causing the vehicle to become inoperable and must be kept overnight at an authorized FCA Canada Inc. retailer for repairs covered by your Service Contract or vehicle warranty. Even if your vehicle can be repaired the same day, rental car allowance is available for same-day warranty or contract repairs excluding maintenance.
Can you tell me more about the Jeep Wave

™

dedicated member line?
As a member of the Jeep Wave™ program, you'll have access to a set of dedicated representatives who will provide elite customer service and address any inquiries. Simply visit your account page at jeep.ca/en/jeep-wave or by calling us at 1-833-JEEPCAN (1-833-533-7226).