Dodge Ram 1500 for Sale in Winnipeg
Dodge Ram 1500 for Sale in Winnipeg

What does your ideal light-duty pickup look like? Is it equipped with all the latest amenities to maximize comfort for you and all of your passengers? Is it a durable workhorse intended for consistent towing and hauling performance in the most demanding work environments? Or is it somewhere in between? Regardless of what you're looking for in a pickup, the versatile trims of the Ram 1500 can give it to you - and no dealership in Winnipeg is better positioned to get you behind the wheel of the Ram 1500 for less than Murray Jeep Ram Winnipeg. With over 41 years of experience serving customers from Winnipeg and beyond, Murray Jeep Ram Winnipeg knows auto sales and service - and with over 20% of our inventory dedicated to trucks, we know the Ram 1500. If you're ready to look for a new or pre-owned Dodge Ram 1500 for sale in Winnipeg, it's easy to browse through the Murray Jeep Ram Winnipeg online inventory. But if you'd like to learn a little more about what makes the Ram 1500 tick, read on!
More than anything else, today's Dodge Ram 1500 for sale in Winnipeg is about the value of choice - and with 3 adaptable engines, 3 cab options, and 3 cargo box lengths over a lineup of 11 models to choose from, you can be assured you'll drive home in the perfect light-duty pickup. And for ultimate traction and power, consider getting behind the wheel of a 4x4 selection.
With a standard 5-inch Uconnect® 5.0 multimedia and climate control touchscreen, also available in a nav-ready 8.4-inch version, the Ram 1500 SLT puts comfort and performance at your fingertips. Keyless entry makes getting on the road easy and fast. And Bluetooth integration makes streaming audio easy.
The Ram 1500 Laramie and Laramie Longhorn bring incredible luxury and craftsmanship to the light duty segment. Dual-zone climate control, heated/ventilated front seats, camera-enabled rear park assist, and bright chrome accents signal that these are a higher class of Ram 1500. Both are available with even more capable features like rain-sensing wipers and headlamps, towing-focused mirrors and brakes, and the RamBox® Cargo Management System, which makes keeping your truck bed organized easier than ever.
There's no question that the best way to experience a Dodge Ram 1500 for sale in Winnipeg is in person at Murray Jeep Ram Winnipeg. Our sales team is eager to help you get behind the wheel, so choose a few you like and drop by for a no-pressure test drive!
A True Winnipeg Legacy
Discover our convenient downtown location and discover a part of Winnipeg history
It's All Here - Sales & Service

Oil changes, collision repairs, parts, inspections, and more - all in one place
An Ever-Expanding Automotive Business

A larger lot and more - that's the Pembina Valley Auto Complex
Why Choose Murray Jeep Ram Winnipeg
Powertrain Choice Makes the Difference - Choose the Perfect One for Your Ram
Perhaps no other feature makes as much of a difference to the way your Ram 1500 drives than the engine that's under the hood. No matter what you choose, you're in luck, since all three powertrains offer a winning balance of performance and efficiency. First off, there's the baseline 3.6L VVT Pentastar V6, which boasts 305 horsepower right off the bat. But for drivers looking for more, you have two choices - the old-fashioned muscle of the 5.7L HEMI and the surprising torque and the fuel efficiency of the 3.0L EcoDiesel, also available in the incredibly economical HFE trim!
Ram 1500 EcoDiesel - The One and Only Light Duty Diesel Pickup
Pickup manufacturers across North America have long recognized the value of offering diesel options, Ram included. But what you might not know is that since its debut in the mid-90s, no other manufacturer has produced a light duty truck to match the Ram 1500 EcoDiesel. Choose from a lineup of truly forward-thinking designs at Murray Jeep Ram Winnipeg - and if the precise Dodge Ram 1500 for sale in Winnipeg that you're looking for isn't in stock, we can work with Ram to order it from the factory.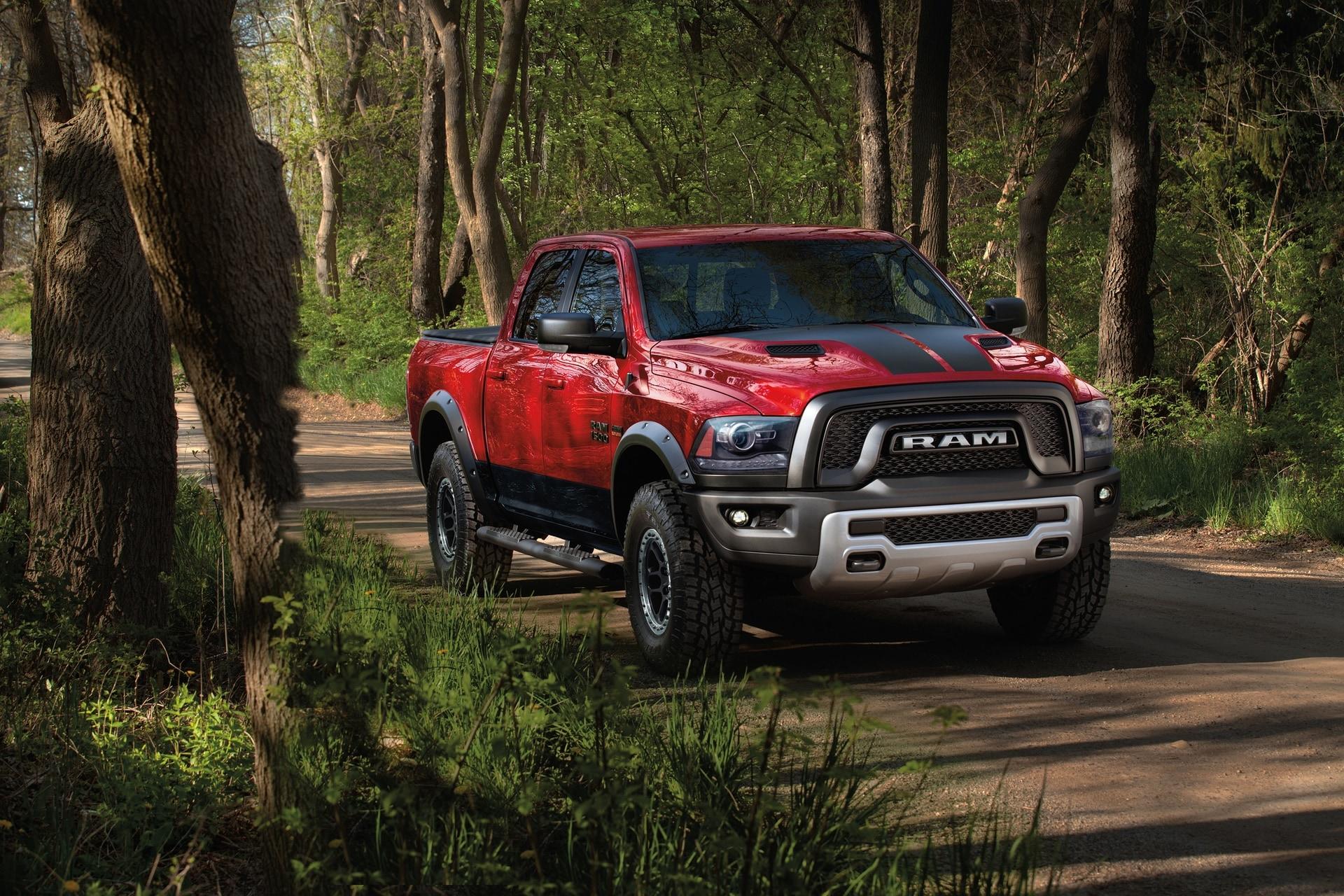 Your Dealership for Finding a Dodge Ram 1500 for Sale in Winnipeg
We know that our customers crave the versatility, affordability, and performance that only the Ram 1500 can provide, and you're sure to have a positive experience with our experienced and courteous staff. In our over 41 years of operation, we've discovered that focusing on every customer's satisfaction from day 1 is the best way to build a lasting relationship - and those lasting relationships, supported by word of mouth throughout the region, have helped us grow into a comprehensive automotive resource. Discover the difference that comes from a proven leader in the Winnipeg community!
Keep Your Pickup in Perfect Shape with Our Fully-Stocked Service Center
A guiding principle of our 2006 relaunch was the concept of "It's All Here" - as Murray Jeep Ram Winnipeg expanded, we made it a priority to increase the range of auto services we could provide to our customer base. Today's Murray Jeep Ram Winnipeg service center is equipped with state-of-the-art collision repair and parts departments, and it's easier than ever to get a fast and affordable oil change. So whatever challenges your Dodge Ram 1500 faces on or off-road, we can help keep it running smoothly for as long as you own it. Why choose another repair center? At Murray Jeep Ram Winnipeg, it's all here!
Operating from the same location for over 41 years, Murray Jeep Ram Winnipeg is a true Winnipeg original. We're more accessible from the heart of downtown than any other Winnipeg new vehicle dealership, thanks to our location at the north end of Murray Jeep Ram Winnipeg. As we enter our fifth decade of operation, we're as committed as ever to being your one-stop shop for all of your automotive needs - and since 2006, we've become one of the largest Chrysler, Dodge, Jeep, and Ram dealerships in Western Canada. And while we've certainly grown over the years, we've never compromised on our dedication to providing courteous, memorable customer service experiences. We build customers for life with every visit - so find out how your next automotive experience can be the best it can be at Murray Jeep Ram Winnipeg!
Dodge Ram 1500 for Sale in Winnipeg