Jeep Wrangler For Sale
Home of the #1 Chrysler Parts Department in Canada
Easy, Hassle Free Purchase Experience - "Zooom" into a Jeep Wrangler for sale
In Dealership or In Home, we sell it the way you want to buy it
Make us your next dealership - Murray Jeep Ram Winnipeg
Explorers that want to get out and see the world with the confidence that comes from a vehicle line that has 75 years under its belt need look no further than the Jeep brand. These are vehicles built to last and last, with the capabilities to do more and make your adventures truly remarkable. These points are especially true when you take into consideration a Jeep Wrangler for sale. Highly-sophisticated, the Wrangler is no stranger to the spotlight, offering drivers a best-in-class 4×4 capabilities backed by best-in-class 285 horsepower to ensure that you have all the technology and presence you need on and off the road.
Come down to Murray Jeep Ram Winnipeg and let our experts provide you with the care and advice to help you narrow down the models and put you into the driver's seat of the right Wrangler for you. We have a huge assortment of new and used options, so you can be sure you're going to find what you're after when you join us at our convenient location backed by the experts that aim to make your time with us every bit as effective you deserve. Murray Jeep Ram Winnipeg is your dealership for your next Jeep Wrangler!
Your Dealership for the Jeep Wrangler in Winnipeg
The Jeep line has a history that reaches back 75 years - with models that have, effectively, sparked the SUV revolution that continues into the present. But there's no substitute for the original - and that's what you'll discover for yourself when you take a Wrangler for a test drive. There's power, sure - no question about that - but there's also personality that will reward you with opportunities unlike any you've known before.
We want you find the right Wrangler to match your needs - whether you're more inclined to have a durable off-roading machine or something a bit more practical that doesn't quit when you decide you need an adventure. Come down to Murray Jeep Ram Winnipeg and let our experts provide you with details and information that will put you in line with your next Wrangler without hassle or complication!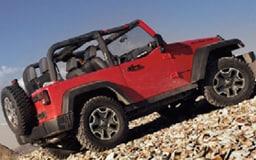 Advanced Features on a Superior SUV
Refined throughout the years, the modern Wrangler is a SUV that has the power and the presence to make traveling an adventure no matter where you go. Consider the fact that Wrangler comes with the added bonus of best-in-class 285 horsepower and know that you have the features to make getting through the day not just easy, but fun too! Find your Wrangler at Murray Jeep Ram Winnipeg, today!
Get Out and Explore
You don't get called the '4×4 of the Decade' by Four Wheeler Magazine without offering your drivers the sort of technological and mechanical features that make exploring the world as effective as possible. With the Wrangler drivers earn a vehicle that is eagerly awaiting the next challenger - backed by the power of the award-winning 3.6-litre Pentastar VVT V6 Engine.
Your Traveling Companion
Never before has there been a SUV that offers as much capabilities as the Wrangler - and all with a fuel efficiency that will impress that will encourage you to spend more time on the adventure and less time worrying about refueling - as good as 11.0-L/100 km (26 mpg) highway, the Wrangler is your gateway to a new driving philosophy.
Models to Match Your Driving Style
Choose models that have been equipped with full-metal doors featuring rugged aluminum-forged hinges or half-metal doors that offer manual locks and can be completely removed for an open-air driving experience. Similarly, the Wrangler can be optioned with either the Jeep Freedom Top Hardtop or Sunrider Soft Top for those who love to be surrounded by nature. With the Max Tow Package you'll be able to bring along as much as 1,588 kg (3,500 lbs) and with various extreme off-road capable options, you'll get more out of your Wrangler than you ever imagined possible!
The Superior Dealership Experience at Murray Jeep Ram Winnipeg
Know that you have the resources and the experience to get you back on the road without hassle or complications when you choose Murray Jeep Ram Winnipeg. In fact, with over 350 years of collective experience across our Service, Parts and Collision Departments, you can be sure that you're going to have an experience that stands out every time you join us. Beyond that, Murray Jeep Ram Winnipeg is proud to be the #1 Chrysler Parts Department in Canada, supported by our "ZOOOM" ideology that focuses on easy, hassle-free purchasing experiences.
We are proud to be independently owned, with small town values and big city savings that are inspired by our three rural locations. You can enjoy the fact that we have 2 service courtesy shuttles on the road throughout the day to help you get to and from our store, complemented by the our policy of working for you to get you the best options possible whether you want to come in to our store or if we should come out to you. Join us today at 300 Pembina Highway in Winnipeg, Manitoba.